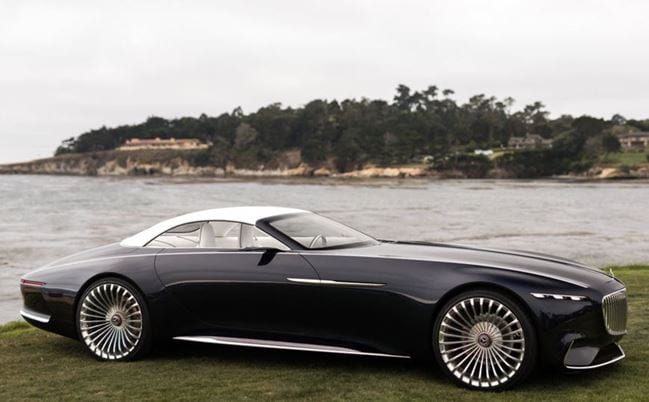 Glamorous style starts with the Vision Mercedes-Maybach 6 Cabriolet. An ultimate luxury car of the future, the two-door marvel exudes elegance at every angle. Designed as an electric car, the two-seater captures Mercedes-Benz's "Sensual Purity" design philosophy.
Featuring a lengthy hood and crisp, clean lines, the voluptuous vehicle embodies elements of art deco design. In addition, it sports eye-catching 24-inch light-alloy wheels that only add to the signature style of this one-of-a-kind cruiser. Aside from its extravagant looks, the futuristic Mercedes-Benz utilizes a 750-hp, 550 kW under-the-floor battery that can achieve a truly impressive 200-mile range.
"The Vision Mercedes-Maybach 6 Cabriolet takes modern luxury into the realms of the ultimate in luxury, and is the perfect embodiment of our design strategy. Breathtaking proportions combined with a luxurious "haute couture" interior help to create the ultimate experience," explains Gorden Wagener, Chief Design Officer of Daimler AG.
Inside, the vehicle exemplifies engineering excellence, with its meticulously crafted design that is unlike anything you've ever seen. The seats are draped in premium leather upholstery that feature a diamond-shaped pattern, while the center console is fitted with prominent round dials for an extra touch of class.
A revolutionary vehicle that hints at the future design of Mercedes-Benz S-Class Cabriolet models, the Vision Mercedes-Maybach 6 Cabriolet is in a league of its own.
If you're in the market for a new luxury car or SUV, you'll be happy to know that Elite Automotive Group has an extensive collection of high-end Mercedes-Benz models. When you're finished browsing through our inventory, contact us or stop by for a test drive!