Although the words "entry-level" and "upscale" aren't necessarily synonymous, the Mercedes-Benz A-Class sedan is an exception to the rule. The luxury brand's smallest model has been popular in Europe but wasn't available in the United States--until now. Here's what you can expect from this affordable yet opulent sedan.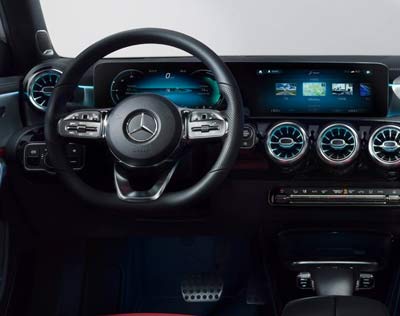 The exterior concept for the A-Class remodel debuted at the 2017 Shanghai Auto Show and has remained relatively the same in production. You'll notice sweeping, sophisticated lines reminiscent of the overseas-only hatchback version of this vehicle. Choose between standard halogen headlights, LED running lights, and additional LED lamps for spot illumination.
The powertrain lineup for the U.S. model hasn't yet been announced, but the most likely contender is a 224-horsepower four-cylinder engine paired to a seven-speed dual-clutch automatic. The sedan will come with front-wheel drive and can be upgraded to all-wheel drive.
Inside, the spacious cabin has a sophisticated style influenced by larger vehicles in the Mercedes lineup, particularly the S-Class. The all-new Mercedes-Benz User Experience (MBUX) infotainment system appears for the first time in the 2019 A-Class. The two-screen touch display features a voice-activated virtual assistant that adapts to your habits using AI. Opt for two 7-inch screens, two 10.25-inch screens, or one of each.
A robust suite of driver assistance tech includes standard automatic emergency braking, adaptive cruise control that responds to road conditions, lane keep assist, and forward collision warning.
High-end features of the A-Class include available ambient lighting that can be customized in 64 different pleasing hues.
Contact us today to learn more information!