Unlock Your Vehicle's Potential
Mercedes-Benz mbrace® unlocks all of your car's potential and brings luxury to life. It is a collection of features and services that makes your driving experience safer, more convenient, smarter and more fun. The base package, mbrace® Connect, comes standard for five years on your new Mercedes-Benz vehicle.
Mercedes-Benz mbrace® Packages
If you own or lease a new Mercedes-Benz vehicle, you have access to four mbrace® packages that elevate your driving experience. They are: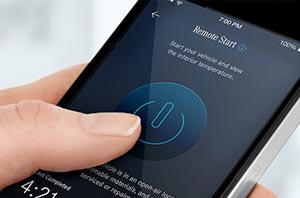 mbrace® Connect: The standard mbrace® package that lets you remotely start your car, control the door locks and dispatch an address to your navigation system, all from the Mercedes me app. You also can connect with Roadside Assistance and send diagnostic information to your dealer. mbrace® Connect provides vehicle location and tracking, remote horn & lights, virtual driving boundaries, curfew minder and speed alert.
mbrace® Secure: Features state-of-the-art technology to keep you safe and informed. If you're in an accident, mbrace® Secure provides automatic collision and alarm notifications, Safe Ride if you're unable to drive, SOS/Emergency calling, and Crisis Alert if a disaster occurs. You also get agent-assisted door lock/unlock, easy contact with your dealer, and access to product specialists.
mbrace® Concierge: Travel and assistance features that save you time and worry. You can work with your personal assistant to make dinner reservations, arrange travel, obtain tickets for events, and receive real-time information about traffic, weather and route assistance.
mbrace® Entertain: Makes driving more enjoyable by offering you millions of playlists, podcasts and stations from around the globe. You can search by name, genre or location. You also get in-vehicle Wi-Fi hotspot, iHeart Radio and Tunein Radio.
Enjoy Your Mercedes-Benz to the Hilt
Mercedes-Benz mbrace® unlocks maximum vehicle enjoyment, and the key is the Mercedes me app. Powered by mbrace®, the app lets you take full advantage of mbrace® Connect and a whole lot more. Stop by our Mercedes-Benz dealership today for a full demonstration of the many benefits brought to you by mbrace®.