Maintaining your Mercedes-Benz keeps it running in optimal condition and protects your investment in this exceptional vehicle. Using these five tried-and-true tips, you can save money on your recommended Mercedes routine maintenance.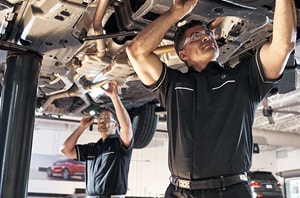 Complete Maintenance as Recommended

While you may be tempted to save money by skipping certain services, this strategy can actually be more costly in the long run. Preventive maintenance is designed to keep your car from needed repairs. If you put off small repairs, they can turn into expensive problems.

Choose the Right Oil

When it's time for an oil change, use the grade recommended by your Mercedes dealer. Using the wrong oil can decrease your vehicle's fuel economy by as much as 2 percent. Using the correct oil prolongs the life of your Mercedes engine by keeping metal surfaces from degrading when they rub together.

Park in the Garage

Many Mercedes owners wait until the weather turns wet to park in the garage. Instead, however, you should do so whenever it's cold outside. The reason? Starting a cold engine allows byproducts to collect, degrading the quality of the oil and requiring it to be changed more frequently.

Consider a Prepaid Maintenance Plan

This strategy allows you to save money on maintenance for your Mercedes by locking in the cost of recommended maintenance services, which may increase over time.

Check for Coupons

Elite Mercedes frequently offers online deals for our service center, such as discounts on HVAC and ventilation service and battery replacement. Scheduling service around these specials can save you hundreds. View our coupon page here.