Mercedes-Benz AC Repair in Springfield, MO
While your Mercedes-Benz may be loaded with innovative and thoughtful features that are designed to pamper you while you cruise around town, it also has numerous features that promote your comfort and well-being. The air conditioner is an important feature, but it is also easy to overlook when it works as intended. Periodic air conditioning service can keep it well-maintained over time, but you could have to deal with an AC repair issue at some point. When your car's air conditioner is acting up, we are the trusted team of service technicians that you can reach out to for quality service.
The Air Conditioner in My Mercedes-Benz Is Only Blowing Hot Air. Can This Be Fixed?
You may have noticed that your car's air conditioner is gradually producing air that is less cool in recent weeks, and now it may even be blowing warm or hot air throughout your car's interior. If warm air is generated as soon as you turn the AC on, your system's condenser, vacuum seals, blower or compressor may need to be replaced. If your AC blows chilled air for a short period of time before the air turns warmer, service may be required for the compressor clutch, valves or fuses. With numerous possible causes for this type of uncomfortable situation, our team will need to complete diagnostics on the air conditioner before we can determine the right repair strategy. Regardless of the cause, rest assured that we can restore the function of the AC system without delay.
My Car's Air Conditioner Is Barely Circulating Any Cool Air. What Can Be Done to Improve Airflow?

Weak airflow is most commonly caused by damage to the AC system's valves or hoses, but it could also be caused by mold or grime on the evaporator case. During a diagnostic service, we will identify the cause of the problem. For example, in order to identify damage to the valves or hoses, we will use sniffer equipment or special dyes that react to a blacklight. We will tailor our repair efforts specifically to address the cause of your AC's weak airflow issue.
How Do I Know If My Car's AC Has a Leak?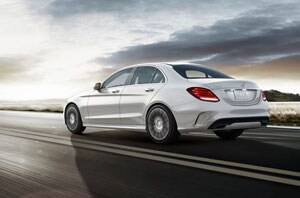 Many people equate a leak with dripping moisture, and because of this, you may believe that the moisture dripping underneath your car when it is running is caused by an air conditioner leak. Fortunately, this type of moisture is common and normal. Typically, an air conditioner leak in your Mercedes-Benz will create weak airflow or difficulty with the temperature controls. These AC symptoms can also be caused by other types of damage. The best way to determine with certainty if a leak is present and where it is located is to request an AC diagnostic service from our team.
Why Is Smelly Air Blowing Through My Car's Air Vents?
There are numerous causes of an unpleasant smell in your car. If you have narrowed down the possibilities to a problem with your car's air conditioner, you may be wondering what can be done to improve this situation. Understanding the causes of bad AC smells is the first step, and one of these causes is an older air filter that needs to be replaced. As air passes through a dirty air filter, it can spread various particles throughout the interior of your car. If an air filter replacement is not needed, this smell could be caused by mold growth in the AC system. Moisture from a backed-up hose could lead to a moldy evaporator case. If we determine that this is the cause of your problem, we can remove the blockage and the mold. For any AC concerns, contact us for an appointment.